Birch Pottery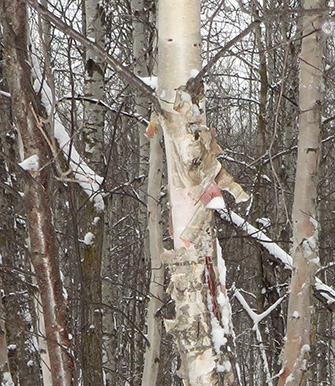 Birch trees showing variation in bark color
The trees and plants around my house are one of the main inspirations for my pottery. Birch trees are my favorite. Think of a birch and you think of a northern forest. What I have noticed, walking and skiiing through the forest next to my house, is that birch trees are far from uniform. Unlike many other trees, the bark of birch trees displays an amazing variation of colors and textures, which seems mostly related to the age of the tree.
Trying to recreate that look in ceramics is a challenge that I have taken on lately. Of course, I am not the only potter who has attempted this. For example, Sophia Kim, a wonderful potter that I met in Vancouver, has done some great work in this area. She sells her wares at Granville Island Market. I LOVE her work!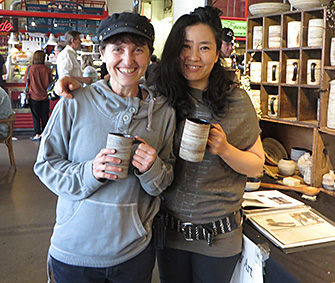 Sophia and me at the Granville Market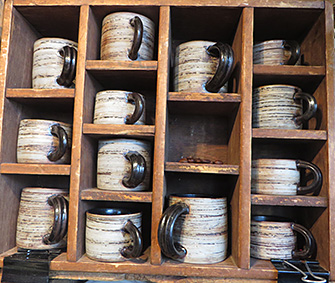 Some of Sophia's mugs for sale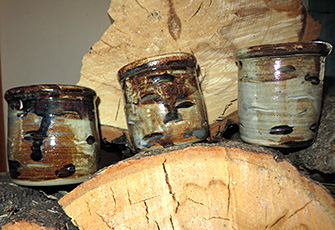 My first attempt at birch pottery
My attempts at making birch-themed pottery began with wine cups. Then I gradually moved on to mugs, bowls, and plates. Making this style of pottery requires more effort than most of my other work. But I'm finding that the pieces are very popular and often are the first to sell out at sales.
Developing my birch style has involved a lot of experimenting, and this has been great fun. The following are examples of the kinds of design issues that I have wrestled with: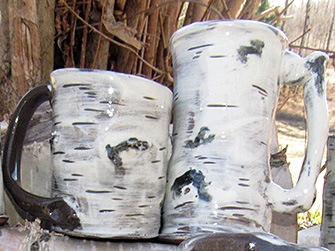 Brown vs. white handles
1. Mug handles. I have been making both white and brown handles. Which is best?
2. Shape. How crooked should the mugs be? Actual birch trees can be quite variable in their looks. They are rarely perfectly round and many are gnarly and bent.
3. Texture. Birch bark can be rugged, torn, curled. How does one express that in ceramics? I add bumps. What else can I do?
4. Color palette. To date, my birch mugs have been white with dark stripes. Lately I have been experimenting with darker tones, since young birch trees are actually burgundy/brown with light stripes. Take a look for yourself the next time you are in a forest with birch trees.
Burgundy theme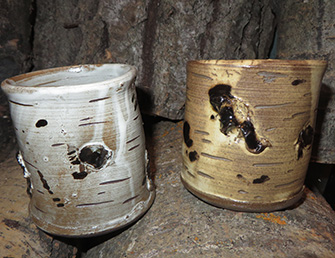 Off-white theme
You can see more of my birch line here.